 
My Total Health
An innovative multivitamin supplement composed of more than 145 natural elements including vitamins, minerals, amino acids and organic fruit and vegetable extracts. This is the only supplement of its kind that provides the vital nutrients* that counteract the typical deficiencies caused by the depletion of nutritional substances in modern diets*.
USEFUL FOR
Supplementing the diet with all the micronutrients needed
Counteracting nutritional deficiencies due to modern diet
Helping the body restore its complete functions and achieve higher levels of health


Whilst the quantity of our food has increased over the last fifty years, its nutritional quality has deteriorated a great deal. Nowadays it is virtually impossible for an individual to ingest all the essential nutritional elements required for maintaining a fit and healthy body simply through their daily diet*.
A healthy body has the extraordinary capacity to look after and repair itself, but when slumps in performance begin to appear this is accompanied by a feeling of having less energy, a less alert mind, weight gain, greater hunger, less sex drive and sleep becoming fitful etc.. These symptoms may be the prelude to the onset of chronic illnesses that in recent decades have begun to appear ever more frequently and prematurely.
All of these problems are associated with nutritional deficiencies that make the body incapable of operating in the best possible way and so over time it deteriorates until illnesses appear.
Clinical studies by the major scientific institutions (Harvard, Tufts, UCLS) have revealed that most people lack the same essential nutritional substances*.
FUNCTIONS OF THIS SUPPLEMENT
All of the above has led to the creation of the supplement My Total Health, which contains over 145 essential elements (vitamins, minerals, amino acids and natural fruit and vegetable extracts) which we all need if we are to create and maintain a condition of total health, something that is very difficult to obtain through modern diets.
This supplement contains more than 145 nutritional elements in one single formula, where the synergy of all the combined elements is greater than the effects of the individual elements, as in nature.
PROPERTIES
The elements contained are in a form that is most active and absorbable by the human body.
It is the only multivitamin in the world to contain twenty free-form amino acids that are directly absorbable and available to the body to nourish its own energy-producing mechanisms.
It contains the active form of vitamin K2 which, according to clinical studies, reduces morbidity and death from cardiac disorders***.
It contains the active form of vitamin D that is to be found naturally within the human body: D3.
Contains hydroxocobalamin, the purest form of vitamin B12 and not the cheaper cyanocobalamin that is more commonly found in the majority of supplements available on the market.
It contains the active form of vitamin B6 (P-5-P) that is highly absorbable and has an instant biological effect.
All the minerals contained are in their chelate form (linked to an amino acid) just as they are to be found in plants. In this form they are highly absorbable and biologically active because they are organic rather than inorganic elements.
It contains vegetable based enzymes that are essential for the digestion and the absorption of nutritional substances.
It contains twenty-two fruit and vegetable extracts with high antioxidant levels. Standardized ORAC>5000 value.
It contains broccoli extract, rich in organic sulfur and with a high antioxidant level.
It contains more than seventy trace minerals in an ionic form processed from plants coming from Salt Lake City (Utah).
The My Total Health supplement is a unique formula that complements our diet with more than 145 selected elements of the highest quality.
* Benefits of Nutritional Supplements Council for Responsible Nutrition 2012 Report
** Fathoming Metabolism Harvard Magazine May/June 2011
*** A high menaquinone intake reduces the incidence of coronary heart disease. Nutr Metab Cardiovasc Dis. 2009 Sep;19(7):504-10. Epub 2009 Jan 28.
FORMULA AND INGREDIENTS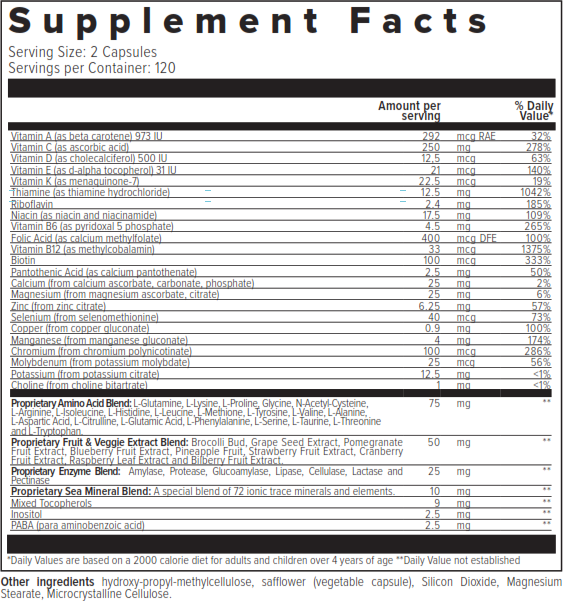 DIRECTIONS FOR USE:
Take 2 capsules a day after meals
WARNINGS:
Do not exceed the recommended dose without prior medical advice. Dietary supplements are not intended as a substitute for a healthy and balanced diet. For use during pregnancy, breastfeeding or for children under the age of 12 we recommend the advice of a doctor. Keep out of reach of children.
Store this product in a cool, dry place. This product contains no sugar or artificial sweeteners.
Data sheet
Dosage Form

Capsules

Size

120 Capsules

Net Weight

2.33 oz
No customer reviews for the moment.
Customers who bought this product also bought: