Do you know anyone who could benefit from the use of our metabolomic supplements or do you have several customers who buy supplements already and you want to recommend products of very high quality and effectiveness to them?
Now you can become a Meetab Promoter.
WHO IS A PROMOTER?
A Promoter is a person who promotes or recommends Meetab supplements to their friends or customers and in return receives a percentage of all purchases made by the Clients introduced.
WHO CAN BE A PROMOTER?
Anyone can be a Meetab Promoter. It can be someone who wants to let their friends and family know about our products, a doctor who recommends our supplements, someone who is enthusiastic about products that recruits a doctor who can recommend them, someone who knows several professionals who already sell or recommend supplements, etc..
How much can a Promoter earn?
A Promoter earns 8% on all customers directly introduced and a further 8% on any customers introduced by his/her customers in turn.
Details on payment methods and procedures are written in the contract for Promoters available at the link at the bottom of the page.
How does it work?
It 's very simple, just follow two simple steps:
1) Become a registered member of this website
2) Register as a Promoter by filling in the form on the online contract at the bottom of the page.
When you have completed these first two basic steps, you can give your friends and customers a 10% discount if they are not yet registered on this website.
To get the discount your customers, at the time of registration, simply need to fill in the field "Email of your Promoter".
They will get 10% off on their first purchase and you will get 8% reward on all subsequent purchases made by that customer.
Summary of the relationship between Promoter – Customer

Sub-Promoter
In the event that a person who you have introduced, becomes a Promoter as well, they would be identified for you as Sub-Promoter.
In this case, if a customer is introduced by the Sub-Promoter, they will get a 10% discount on the first purchase as usual, the Promoter will get 8% and the Sub-Promoter will earn 2% on all subsequent purchases made by that customer introduced by the Sub-Promoter.
Summary of the relationship among Promoter – Sub Promoter - Customer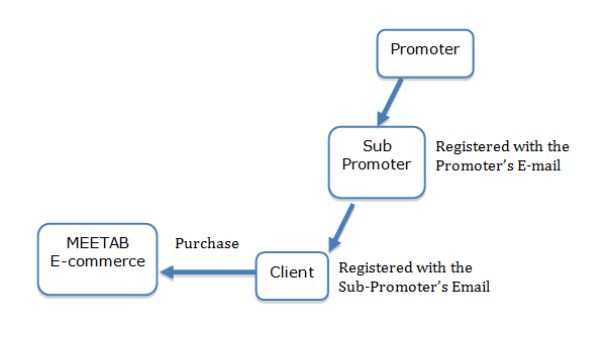 How to become a Promoter?
This program is available for every customer who signs up on our website, simply by clicking on their "My Account" page.