 
My Omega Krill
Food supplement with properly balanced quantities of Omega 3, Omega 6 and Omega 9 and the addition of Krill Oil.
My Omega Krill is a food supplement based on fish oil, linseed oil and borage oil, in rich quantities, with the addition of the powerful Krill Oil, for a synergistic and balanced composition of Omega 3, Omega 6 and Omega 9.
Everyone knows the benefits of fish oil in order to integrate good fatty acids in our diet.
More recently, a new sustainable source for the integration of Omega 3 has been discovered, studies prove to be even more effective and powerful: krill oil.
From krill, a type of crustacean that is located in the oceans, an oil is obtained, which has powerful nutritive properties. It contains astaxanthin, a powerful antioxidant that prevents krill from degrading.
USEFUL FOR
Scientific research has attributed several benefits to Omega 3, 6 and 9:
Supports Cardiovascular Health
Supports Brain Function
Supports Joint Mobility
Supports Healthy Blood Pressure Levels
Contains Essential Fatty Acids for Health
Omega 3, 6 and 9 are fatty acids (fat molecules).
Advertising falsely demonizes all fats, but a precise distinction should be made between bad fats (i.e: trans fats, animal fats, margarine, polyunsaturated oils) that should be avoided and the good fats that are essential for our body.
Good fats have three important functions:
They form the cell walls
They are burned to produce energy
They play a part in the formation of several hormones
FUNCTIONS OF THIS SUPPLEMENT
My Omega Krill is designed to provide the body with the good fats needed, balanced in the right proportions.
The optimum ratio between these three fatty acids in the body unfortunately gets messed up by our modern diet. For example, the ideal ratio of Omega 3 and 6 would be 1:1 but it is common to find people with a ratio of 1:16 or even more!
An above average consumption of Omega 6 may not be helpful for the body and possibly exposes the body to unfavorable conditions.
You may know that some Omega 6 compounds are not helpful and other Omega 6 compounds are beneficial. It is true that our diet contains too much Omega 6. This comes however from industrially processed food that contains great quantities of unhealthy types of Omega 6 such as arachidonic acid, homo-gamma-linolenic acid, trans fatty acids as well as beneficial Omega 6 acids such as linolenic acid- that however, are oxidized due to the high temperatures and industrial methods used in processed food manufacturing.
My Omega Krill contains all the beneficial fats needed to re-balance the body's levels of essential fatty acids. The human body needs both Omega 6 and Omega 3 acids that are correctly proportioned in order to properly function, produce hormones, build cell membranes and provide energy.
FORMULA AND INGREDIENTS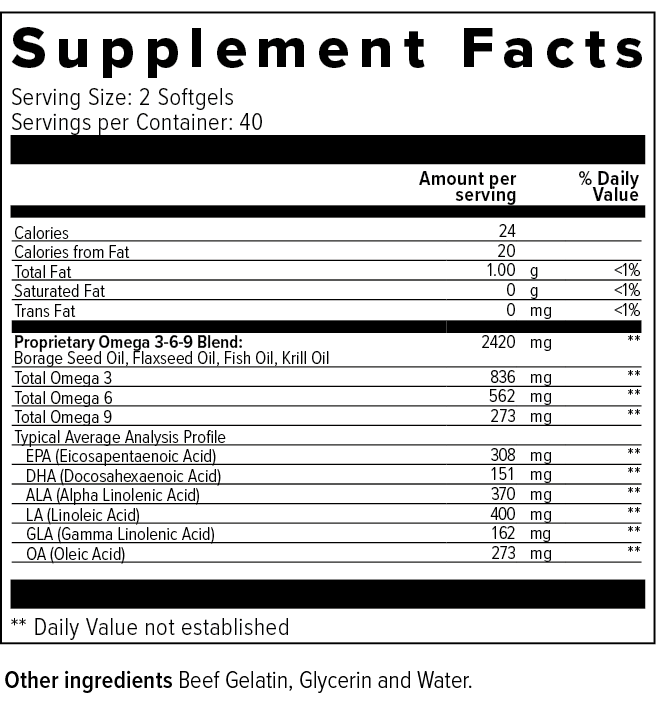 DIRECTIONS FOR USE
Take 2 capsules of My Omega Krill per day
WARNINGS:
Do not exceed the recommended dose without prior medical advice. Dietary supplements are not intended as a substitute for a healthy and balanced diet. For use during pregnancy, breastfeeding or for children under the age of 12 we recommend the advice of a doctor. Keep out of reach of children.
Store this product in a cool, dry place. This product contains no sugar or artificial sweeteners.
These statements have not been evaluated by the Food and Drug Administration. This product is not intended to diagnose, treat, cure, or prevent any disease.
Data sheet
Dosage Form

Softgels

Formulazione

80 Softgels

Net Weight

3.67 oz
No customer reviews for the moment.
Customers who bought this product also bought: