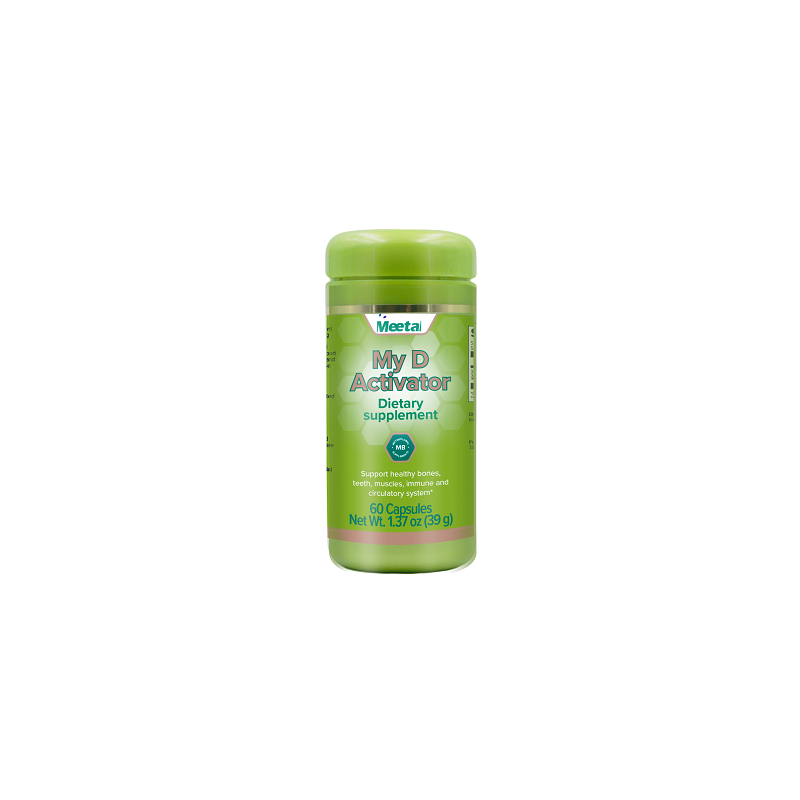  
My D Activator
Vitamin D3 (2000 UI) and Vitamin K2 supplement together help maintain an optimal physiological state of muscle, bone, teeth and immune system.
USEFUL FOR
There are other elements whose presence is essential to expressing the action of vitamin D, are called co-factors, and these components must also be in sufficient quantities not to block all the great "gear" set in motion same vitamin D, that's why in My Activator there are also Vitamin K2 and Magnesium, creating a perfect synergy for the activation of Vitamin D in the body
It helps the normal function of the immune system
It supports the production of energy
It helps to have a healthy state of healthy teeth and bones
It supports normal psychological function
Individuals in anticoagulant therapy should adjust the dosage of K1 and K2 due to the possibility of side effects from drug interactions.
FUNCTIONS OF THIS SUPPLEMENT
Vitamin D3 that helps to:
maintain the normal function of bones and teeth
maintain the normal function of the immune system
improve body response to stressors
contributes to cell division
contributes to normal muscle function
absorption and use of calcium and phosphorus
maintaining normal calcium concentrations in the blood
Vitamina K that helps to:
the maintenance of normal bones
normal blood clotting
Magnesium that helps to:
keep bones and normal teeth
reduce fatigue
maintain the normal electrolyte balance
maintain normal energy metabolism
maintain a normal neurotransmission
maintain normal muscular functioning, including heart muscle
maintain a normal protein synthesis
maintain a normal psychological function
maintain a normal cell division
A natural nutritional supplement that contains all the necessary factors for maximum absorption of vitamin D3.
Based on the current bibliography, the combination of Vitamin D3 with Vitamin K2 provides a beneficial physiological action in maintaining normal bones, especially when aging.
My D Activator contains Vitamin D3 (Cholecalciferol), Vitamin K2 (Menaquinone) and Magnesium (bisglycinate chelate), ingredients with a nutritional and physiological role in supporting the body in various conditions, including joint function.
FORMULA AND INGREDIENTS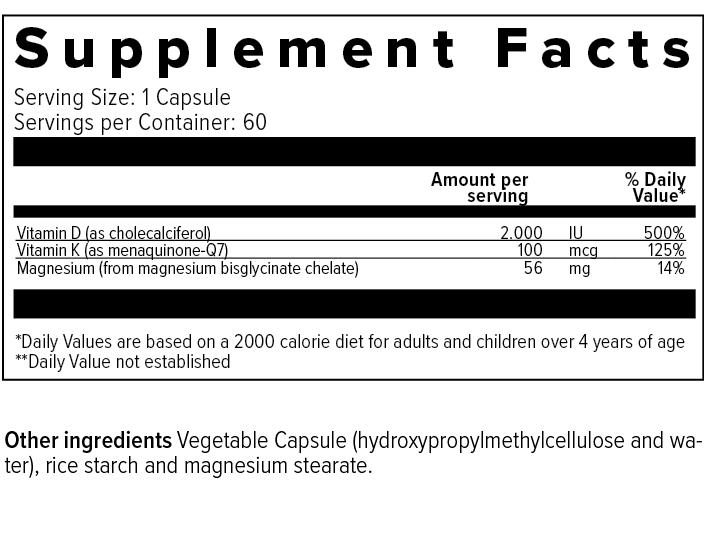 DIRECTIONS OF USE
Take 1 capsule a day after meals
WARNINGS
Do not exceed the recommended dose unless consulted by a physician. Supplements
Foods do not replace a healthy and varied diet. For the use in pregnancy, during lactation or under the age of 12, a physician's opinion is advised. Keep out of the reach of children under 3 years of age.
Store in a cool, dry place. This product does not contain any sugars or artificial sweeteners.
SCIENTIFIC REFERENCES
Lanham-New, S.A. (2008) Importance of calcium, vitamin D and vitamin K for osteoporosis prevention and treatment. Proc. Nutr. Soc., 67:163-76.
Bügel, S. (2008) Vitamin K and bone health in adult humans. Vitam. Horm. 78:393-416
Kidd, P.M. (2010) Vitamins D and K as pleiotropic nutrients: clinical importance to the skeletal and cardiovascular systems and preliminary evidence for synergy. altern Med Rev.,15:199-222.
Genuis, S.J. and Bouchard, T.P. (2012) Combination of Micronutrients for Bone (COMB) Study: bone density after micronutrient intervention. J Environ Public Health., 2012:354151.
Devyani, M., et al (2013) Vitamin K Deficiency Is Associated with Incident Knee Osteoarthritis. Am J Med. 126: 243–248.
US National Library of Medicine
These statements have not been evaluated by the Food and Drug Administration. This product is not intended to diagnose, treat, cure, or prevent any disease.
Data sheet
Dosage Form

Vegetable Capsules

Size

60

Net Weight

39 oz
No customer reviews for the moment.
Customers who bought this product also bought: