 
My Calmag
Powdered supplement delivering the correct doses of Vitamin D, Calcium and Magnesium.
A supplement in powdered form delivering the correct doses of Vitamin D, Calcium and Magnesium.
USEFUL FOR
Supporting the musculoskeletal system
Maintaining a healthy body
Strengthening the immune system
Supporting a healthy bowel function
The scientific community increasingly regards Vitamin D as the most important factor for maintaining good health. Thousands of studies have proven its effectiveness in the prevention and treatment of diseases. Although we mainly get Vitamin D from the sun, there is an estimated one billion people lacking such a key substance. Maintaining the correct levels of Vitamin D favors gene expression, activates the immune system and is crucial in preventing disease and achieving one's ideal weight.
To make Vitamin D more easily absorbable by the body, My CalMag includes balanced doses of calcium and magnesium.
Calcium has many well-known properties, for example, it contributes to maintaining normal bones and normal neurotransmission.
Magnesium, as well as being a co-factor for Vitamin D, is directly involved in 300 intracellular functions and improves the assimilation of calcium, stimulates bowel movement, counteracts insulin resistance and contributes to the correct functioning of the nervous system.
FUNCTIONS OF THIS SUPPLEMENT
My CalMag brings together these three important elements for the body in one single product balancing them perfectly to favor absorption.
For example, Calcium is ineffective without an alkaline element alongside it. Magnesium is alkaline and therefore contributes to the assimilation of Calcium in addition to acting as a co-factor for Vitamin D.
The combination of all these factors make My CalMag a valuable aid for anyone seeking to keep their body fit and maintaining overall good health.
FORMULA AND INGREDIENTS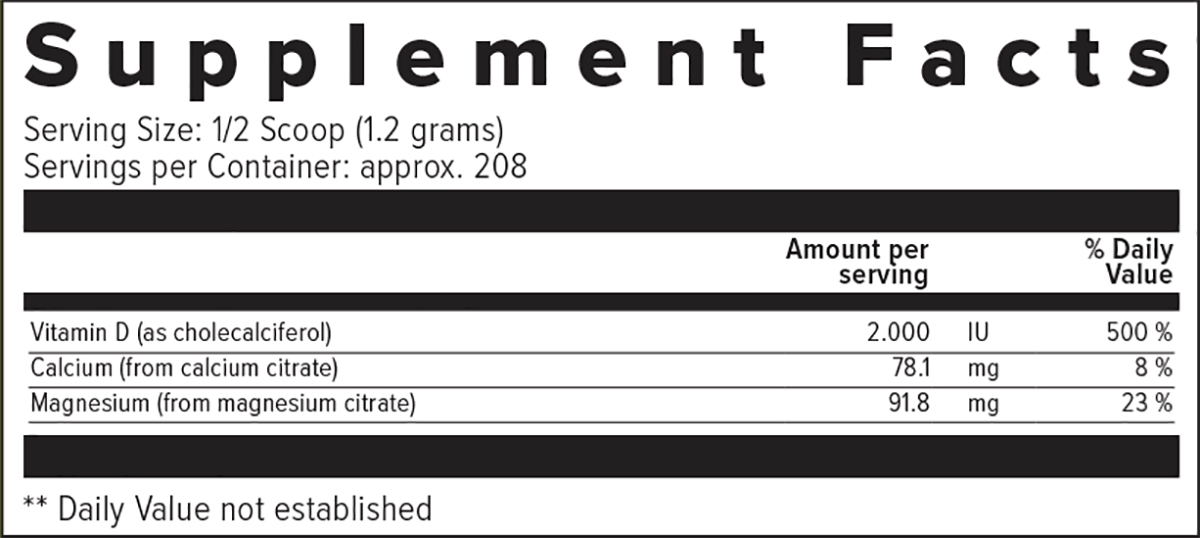 DIRECTIONS FOR USE
The recommended dosage is 2 doses per day of My CalMag diluted in cold or room temperature water. DO NOT USE IN HOT OR BOILING WATER.
WARNINGS:
Do not exceed the recommended dose without prior medical advice. Dietary supplements are not intended as a substitute for a healthy and balanced diet. For use during pregnancy, breastfeeding or under the age of 12 we recommend the advice of a doctor. Keep out of reach of children.
Store this product in a cool, dry place. This product contains no sugar or artificial sweeteners.
These statements have not been evaluated by the Food and Drug Administration. This product is not intended to diagnose, treat, cure, or prevent any disease.
Data sheet
Dosage Form

Powder

Net Weight

8.82 oz
No customer reviews for the moment.
Customers who bought this product also bought: