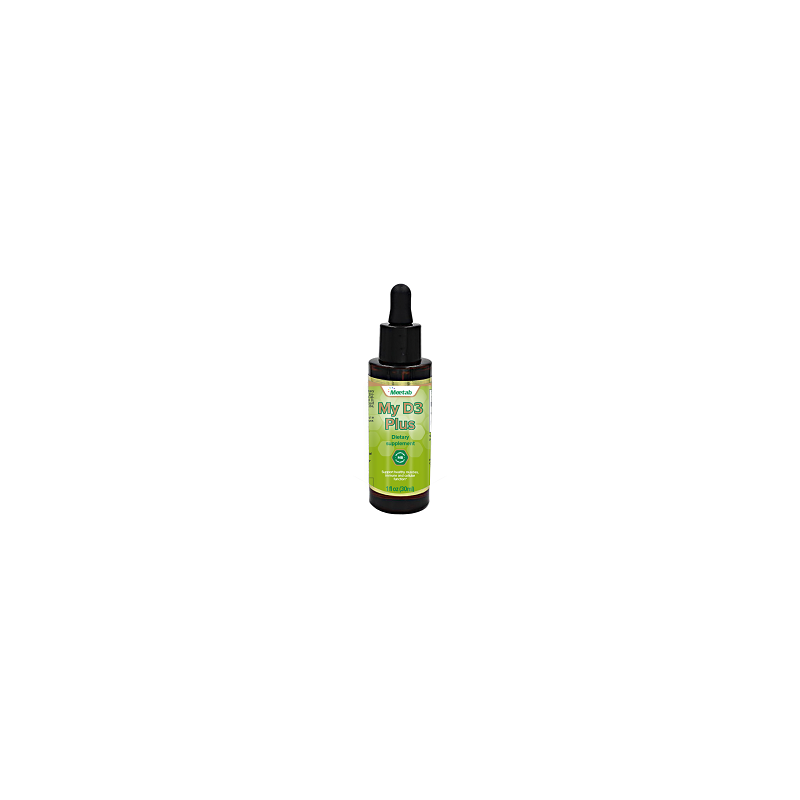  
My D3 Plus
Vitamin D3 liquid supplement (2000iu / 1 drop) with a natural orange taste. To support a healthy immune system and healthier bones and teeth.
My D3 is a Vitamin D3 liquid supplement (2000iu / 1 drop) with a natural orange taste. To support a healthy immune system and healthier bones and teeth.
Highly absorbable
Suitable for children
With orange flavor
Free from gluten, yeast, sweeteners, preservatives, dyes, or other chemical components
1) It is essential for absorption of calcium in the intestinal tract
2) It helps to reabsorb Calcium and Phosphorus in the body
3) It is necessary for the bone deposition of Calcium
4) By binding to a specific receptor, Vitamin D regulates the expression of many genes
5) Vitamin D is essential for the activation of white blood cells, so to strengthen the immune system.
USEFUL FOR
Vitamin D is typically synthesized by the body when exposed to the sun exposure. Unfortunately, however, exposure should occur without sunscreen as it would shield the rays and block the production of vitamin D from the sun by 99 %. It is therefore rare to achieve sufficient Vitamin D levels in the blood to help the systems in the body, which is why we have created My D3.
Vitamin D3 has several functions:
It contributes to the maintenance of the immune system
It participates in the cell replication process, helping the body regenerate more easily
It helps maintain an optimal state of bone and teeth health
It is helpful to normal muscle function
Vitamin D contributes to the normal absorption / use of Calcium and Phosphorus
Vitamin D contributes to normal levels of calcium in the blood
FORMULA AND INGREDIENTS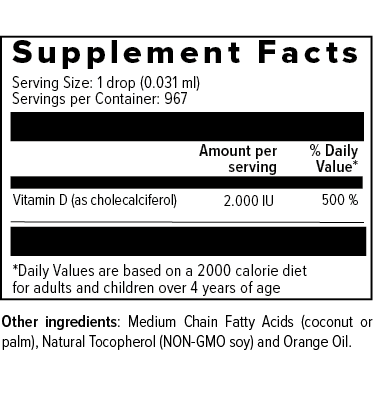 DIRECTIONS FOR USE
Take 1 drop a day from the dropper supplied in a glass of water or juice or according to your doctor's advice. Shake well before each administration. Store this product in a cool, dry place. This product does not contain any sugars or artificial sweeteners.
WARNINGS
Do not exceed the recommended dose unless consulted by a physician. Food supplements do not replace a healthy and varied diet. For the use in pregnancy, during lactation or under the age of 12, a physician's opinion is advised. Keep out of the reach of children under 3 years of age. Store in a cool, dry place. This product does not contain any sugars or artificial sweeteners.
SCIENTIFIC REFERENCES
Demay MB 1995 Hereditary defects in vitamin D metabolism and vitamin D receptor defects. In: DeGroot L, ed. Endocrinology. Philadelphia: WB Saunders; 1173–1178
Thomas MK, Lloyd-Jones DM, Thadhani RI, Shaw AC, Deraska DJ, Kitch BT, Vamvakas EC, Dick IM, Prince RL, Finkelstein JS 1998 Hypovitaminosis D in medical inpatients. N Engl J Med 338:777–783 61
Markestad T, Elzouki AY 1991 Vitamin D deficiency rickets in northern Europe and Libya. In: Glorieux FH, ed. Rickets: Nestle Nutrition Workshop Series. Vol 21. New York: Raven Press
Heaney RP 2004 Functional indices of vitamin D status and ramifications of vitamin D deficiency. Am J Clin Nutr 80(6 Suppl):1706S–1709S
Atkins D, Best D, Briss PA, Eccles M, Falck-Ytter Y, Flottorp S, Guyatt GH, Harbour RT, Haugh MC, Henry D, Hill S, Jaeschke R, Leng G, Liberati A, Magrini N, Mason J, Middleton P, Mrukowicz J, O'Connell D, Oxman AD, Phillips B, Schünemann HJ, Edejer TT, Varonen H, Vist GE, Williams Jr JW, Zaza S 2004 Grading quality of evidence and strength of recommendations. BMJ 328:1490
Elamin MB, Abu Elnour NO, Elamin KB, Murad MH, Fatourechi MM, Alkatib AA, Almandoz JP, Liu H, Lane MA, Mullan RJ, Erwin PJ, Hensrud DD, Montori VM 2011 Vitamin D supplementation and cardiovascular outcomes: a systematic review and metaanalysis. J Clin Endocrinol Metab 10.1210/jc.2011-0398
Poole KE, Loveridge N, Barker PJ, Halsall DJ, Rose C, Reeve J, Warburton EA 2006 Reduced vitamin D in acute stroke. Stroke 37:243–245
Jacobson EA, James KA, Newmark HL, Carroll KK: Effects of dietary fat, calcium, and vitamin D on growth and mammary tumorigenesis induced by 7,12-dimethylbenz(a)anthracene in female Sprague-Dawley rats. J Cancer Res 49: 6300 – 6303, 1989
Giovannucci E, Liu Y, Hollis BW, Rimm EB: 25-hydroxyvitamin D and risk of myocardial infarction in men. Arch Intern Med 168: 1174 –1180, 2008
Bucher HC, Guyatt GH, Cook RJ, Hatala R, Cook DJ, Lang JD, Hunt D: Effect of calcium supplementation on pregnancy-induced hypertension and preeclampsia. JAMA 275: 1113–1117, 1996
Vitamin D Deficiency. N Engl J Med 2007;357:266-81
Evaluation, Treatment, and Prevention of Vitamin D Deficiency: J Clin Endocrinol Metab, July 2011, 96(7)
These statements have not been evaluated by the Food and Drug Administration. This product is not intended to diagnose, treat, cure, or prevent any disease.
Data sheet
Dosage Form

Liquid

Size

30 ml

Net Weight

30 ml
No customer reviews for the moment.
Customers who bought this product also bought: