 
My Energy
This supplement provides the body with 20 essential amino acids and other supportive amino acids, each in the correct quantities with the addition of the right vitamins and minerals to support their absorption and to support the body's capacity to produce energy.
My Energy is a supplement that provides all the amino acids required by the body to produce new tissues, enzymes and energy. One of the essential components in this sense is carnitine that promotes the production of energy within the cells.
USEFUL FOR
Support cellular energy production

Support the body with the necessary amino acids

Support normal energy levels
Amino acids are the 'building blocks' that constitute the proteins which in turn make up our body's tissues. Our body constantly reproduces itself and our cells are totally regenerated every three years. Without amino acids the body would not be capable of recreating tissues and enzymes and would not be able to correct and repair any damage inflicted.
A deficiency of amino acids is a major problem and occurs when the nutritional chain has been altered. Soils, for example, no longer have sufficient quantities of mineral salts to nourish the grasses that are then eaten by animals to produce the proteins required. It has been demonstrated that soil should normally contain 92 minerals. Nowadays, an average crop only has 3, whilst even the best, organically grown foods can at best produce 16 minerals.
Therefore, there is a massive shortage of amino acids that places the functions of all of our body's systems at risk.
FUNCTIONS OF THIS SUPPLEMENT
The formula of the My Energy supplement provides all 20 essential amino acids, each of them in the required quantities along with the vitamins and minerals that best favor their absorption, "to support the body's capacity to produce energy and reproduce its own tissues.
FORMULA AND INGREDIENTS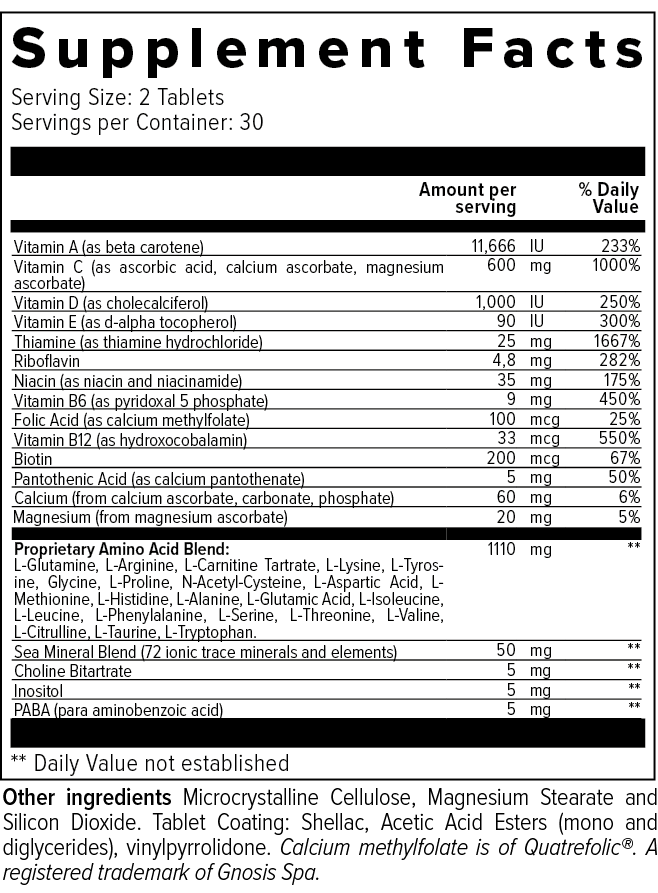 DIRECTION FOR USE
2 tablets daily
WARNINGS:
Do not exceed the recommended dose without prior medical advice. Dietary supplements are not intended as a substitute for a healthy and balanced diet. For use during pregnancy, breastfeeding or for children under the age of 12 we recommend the advice of a doctor. Keep out of reach of children.
Store this product in a cool, dry place. This product contains no sugar or artificial sweeteners.
These statements have not been evaluated by the Food and Drug Administration. This product is not intended to diagnose, treat, cure, or prevent any disease.
Data sheet
Dosage Form

Tablets

Size

60 tablets

Net Weight

2.75 oz
No customer reviews for the moment.
Customers who bought this product also bought: